FOR IMMEDIATE RELEASE:
September 30, 2011
NCTTA Announces Partnership with Butterfly North America
Butterfly becomes Official Equipment Supplier of College Table Tennis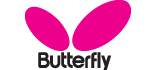 Over the last 50 years, the Martin Kilpatrick Company/Butterfly North America has enjoyed a stellar reputation for providing the very best in table tennis equipment.
With that in mind, the National Collegiate Table Tennis Association is very pleased to welcome Butterfly North America aboard as a major new partner as the 2011-2012 collegiate table tennis season begins. Butterfly will be the official equipment sponsor of NCTTA for the upcoming competition season, including both the regional and national championships.
As college table tennis' official equipment partner, Butterfly will provide table tennis balls and tables among other support during the college table tennis season. Both sides are appreciative of the hard work to put this agreement together and believe it will a happy marriage for years to come.
"NCTTA is very excited to partner with Butterfly North America," says NCTTA Vice President Joseph Wells, who helped put the package together. NCTTA, he added, is anxious to "see this partnership come to life."
For a number of years, the people at Butterfly have "been supportive of collegiate table tennis and we look forward to nurturing those efforts," Wells said.
Butterfly North America President Bowie Martin is just as excited to trumpet the good news.
"Butterfly North America is proud to partner with the NCTTA. The NCTTA has done a tremendous job of growing table tennis through collegiate league play, regional tournaments and their national championship," Martin said.
In countries where table tennis is most popular, league play, he said, "is the foundation for the sport's success. Butterfly looks forward to working with the NCTTA to continue bringing organized table tennis to more college students in North America."
About NCTTA
The National Collegiate Table Tennis Association (NCTTA) is a non-profit organization established exclusively for promoting the sport of table tennis at the college level. As the national governing body for college table tennis in the United States and Canada, NCTTA organizes intercollegiate competition throughout North America. www.nctta.org
About Butterfly
Butterfly is the world's leading table tennis brand producing top quality table tennis tables, rackets, balls, clothing and other products for the table tennis athlete. Butterfly is the official table of the 2012 World Team Championships and official ball of the 2013 World Championships. Martin-Kilpatrick Co. doing business as Butterfly North America is the sole Butterfly distributor in North America.
www.butterflyna.com  or www.butterflyoline.com
###