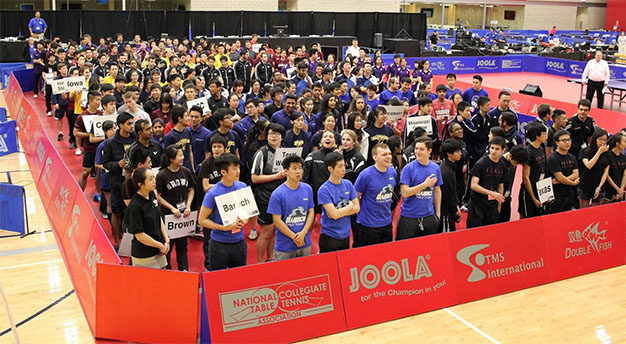 2017 TMS College Table Tennis National Championships

April 7-9, 2017 | Eau Claire, Wisconsin

Over 250 of the best college table tennis players...

representing more than 40 different colleges and universities...

battling for national titles in singles, doubles and team events...

in one of the most popular Olympic sports...

It's one weekend of table tennis you won't want to miss!
---
---
The TMS College Table Tennis National Championships is the premier college table tennis event in North America. Hosted by the Visit Eau Claire in coordination with the National Collegiate Table Tennis Association (NCTTA), the 2017 Championships will be held Friday, April 7th through Sunday, April 9th in Eau Claire, Wisconsin.
Men's and Women's Singles, Doubles and Team events will be contested over the 3 days of competition. Check out the Event Information for details.
Live streaming will be available for the 2017 TMS College Table Tennis National Championships. Please check back for schedule and instructions. Click here for a sample of last year's competition.
Interested in watching some elite-level table tennis?
Spectators are encouraged to drop by for any or all of the 3 competition days to take in the action. Whether you're a table tennis aficionado or new to the sport, you'll have a blast either way. It's great fun for the whole family!
Great sponsorship packages available
The 2017 TMS College Table Tennis Championships are a great way for sponsors to get national media exposure for their companies. A number of different sponsorship opportunities are available to meet your sponsorship goals. Please contact us today at vicepresident@nctta.org